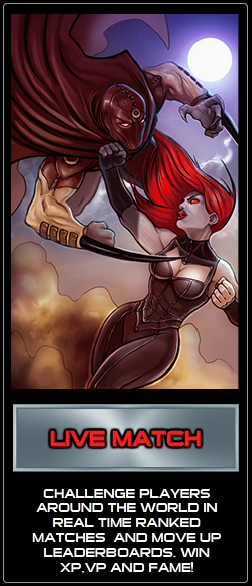 Your Heroes can go head-to-head with live opponents. Let the game find a match for you, or challenge your friends to a match. For competitive players, you will gain Fame and climb the Leaderboard. For casual players, you will enjoy the creative builds other players bring to the game and have a chance to test your deck against a live person.
How Heroes are Matched
Edit
Heroes face one another in Live Match in one of two ways:
Use the Find A Match feature on the Live Match page. The game pairs people according to their Fame. So if your Fame is 1500, the system will attempt to pair you with people as close to your Fame as possible at that time.
You can challenge a friend by hovering your mouse over their picture in the friend carousel at the bottom of the Live match page, and clicking Live Match.
Fame and How it's Calculated
Edit
Only Live Match games through the Find A Match system count towards fame. This means that losing to a Superbase, losing in a friendly challenge with a game buddy, or losing in Story Mode does not affect your fame.
Fame is calculated according to the Elo ranking system . The higher your fame, the higher your rank on the Leaderboard, where the top 100 players are listed. Winning in Live Match means an increase in fame--the bigger the gap between your opponent's fame and your own, the bigger the gain in fame for you. Likewise, losing in Live Match means a loss in fame--again, the bigger the game in fame, the greater the loss of fame.