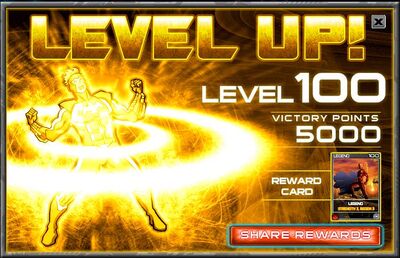 Questions: So what's the highest level a player can reach in CLASH? And how much experience do you need to gain levels? And what rewards do I get at what level?
General Info: Welcome to the United League of Heroes! You start at level 1 and have 3,300 experience. The General will take charge of your official training. For now, you receive initial rewards of Ladybug, Frost, Bolt, Rocket, ULH Trainbot, Solstice, Martial Strike, Second Wind, 6 cards from the first Power Set you selected, and 6 cards from the second Power Set you selected.
Pro Tip: Pick your first two Power Sets carefully. As you start to play CLASH, you will have the most Power Cards from these two sets, and that will define the first decks you can build. You can gain additional Power Cards by purchasing card packs with Victory Points or Credits, and by receiving them as gifts from friends who also play CLASH. Some cards are gained by completing missions and leveling up.
You can find these reward cards described on the Neutral power set page.
| Level | Experience Required | Victory Point Reward | Card Reward |
| --- | --- | --- | --- |
| 1 | 0 | 0 | See General Info above |
| 2 | 200 | 200 | Random Item |
| 3 | 900 | 300 | Random Item |
| 4 | 1,700 | 400 | Random Item |
| 5 | 2,600 | 500 | Concentrate |
| 6 | 3,600 | 600 | Random Item |
| 7 | 4,600 | 700 | Random Item |
| 8 | 5,800 | 800 | Random Item |
| 9 | 7,100 | 900 | Random Item |
| 10 | 8,500 | 1,000 | Sweep Kick |
| 11 | 10,100 | 1,100 | Random Item |
| 12 | 11,900 | 1,200 | Random Item |
| 13 | 13,900 | 1,300 | Random Item |
| 14 | 16,000 | 1,400 | Random Item |
| 15 | 18,300 | 1,500 | Deflect |
| 16 | 20,800 | 1,600 | Random Item |
| 17 | 23,600 | 1,700 | Random Item |
| 18 | 26,700 | 1,800 | Random Item |
| 19 | 30,100 | 1,900 | Random Item |
| 20 | 33,900 | 2,000 | Taunt |
| 21 | 38,000 | 2100 | Random Item |
| 22 | 42,500 | 2,200 | Random Item |
| 23 | 47,500 | 2,300 | Random Item |
| 24 | 53,000 | 2,400 | Random Item |
| 25 | 59,000 | 2,500 | Recruit Sidekick |
| 26 | 65,000 | 2,600 | Random Item |
| 27 | 71,000 | 2,700 | Random Item |
| 28 | 77,000 | 2,800 | Random Item |
| 29 | 83,000 | 2,900 | Random Item |
| 30 | 90,000 | 3,000 | Tactics |
| 31 | 97,000 | 3,100 | Random Item |
| 32 | 104,000 | 3,200 | Random Item |
| 33 | 111,000 | 3,300 | Random Item |
| 34 | 118,000 | 3,400 | Random Item |
| 35 | 126,000 | 3,500 | Enrage |
| 36 | 134,000 | 3,600 | Random Item |
| 37 | 142,000 | 3,700 | Random Item |
| 38 | 150,000 | 3,800 | Random Item |
| 39 | 158,000 | 3,900 | Random Item |
| 40 | 168,000 | 4,000 | Fast Healing |
| 41 | 178,000 | 4,000 | Random Item |
| 42 | 188,000 | 4,000 | Random Item |
| 43 | 198,000 | 4,000 | Random Item |
| 44 | 208,000 | 4,000 | Random Item |
| 45 | 219,000 | 4,000 | Shapeshift |
| 46 | 230,000 | 4,000 | Random Item |
| 47 | 241,000 | 4,000 | Random Item |
| 48 | 252,000 | 4,000 | Random Item |
| 49 | 263,000 | 4,000 | Random Item |
| 50 | 274,000 | 5,000 | Increase Density |
| 51 | 286,000 | 5,000 | Random Item |
| 52 | 298,000 | 5,000 | Random Item |
| 53 | 310,000 | 5,000 | Random Item |
| 54 | 322,000 | 5,000 | Random Item |
| 55 | 334,000 | 5,000 | Invisibility |
| 56 | 347,000 | 5,000 | Random Item |
| 57 | 360,000 | 5,000 | Random Item |
| 58 | 373,000 | 5,000 | Random Item |
| 59 | 386,000 | 5,000 | Random Item |
| 60 | 400,000 | 5,000 | Teleport |
| 61 | 414,000 | 5,000 | Random Item |
| 62 | 428,000 | 5,000 | Random Item |
| 63 | 442,000 | 5,000 | Random Item |
| 64 | 456,000 | 5,000 | Random Item |
| 65 | 470,000 | 5,000 | Strategize |
| 66 | 485,000 | 5,000 | Random Item |
| 67 | 500,000 | 5,000 | Random Item |
| 68 | 515,000 | 5,000 | Random Item |
| 69 | 530,000 | 5,000 | Random Item |
| 70 | 545,000 | 5,000 | Super Speed |
| 71 | 565,000 | 5,000 | Random Item |
| 72 | 585,000 | 5,000 | Random Item |
| 73 | 605,000 | 5,000 | Random Item |
| 74 | 625,000 | 5,000 | Random Item |
| 75 | 645,000 | 5,000 | Take Flight |
| 76 | 665,000 | 5,000 | Random Item |
| 77 | 685,000 | 5,000 | Random Item |
| 78 | 705,000 | 5,000 | Random Item |
| 79 | 725,000 | 5,000 | Random Item |
| 80 | 750,000 | 5,000 | Restore |
| 81 | 775,000 | 5,000 | Random Item |
| 82 | 800,000 | 5,000 | Random Item |
| 83 | 825,000 | 5,000 | Random Item |
| 84 | 850,000 | 5,000 | Random Item |
| 85 | 875,000 | 5,000 | Mind over Body |
| 86 | 900,000 | 5,000 | Random Item |
| 87 | 925,000 | 5,000 | Random Item |
| 88 | 950,000 | 5,000 | Random Item |
| 89 | 975,000 | 5,000 | Random Item |
| 90 | 1,005,000 | 5,000 | Leadership |
| 91 | 1,035,000 | 5,000 | Random Item |
| 92 | 1,065,000 | 5,000 | Random Item |
| 93 | 1,095,000 | 5,000 | Random Item |
| 94 | 1,125,000 | 5,000 | Random Item |
| 95 | 1,155,000 | 5,000 | ULH Command |
| 96 | 1,185,000 | 5,000 | Random Item |
| 97 | 1,215,000 | 5,000 | Random Item |
| 98 | 1,245,000 | 5,000 | Random Item |
| 99 | 1,275,000 | 5,000 | Random Item |
| 100 | 1,305,000 | 5,000 | Legend |