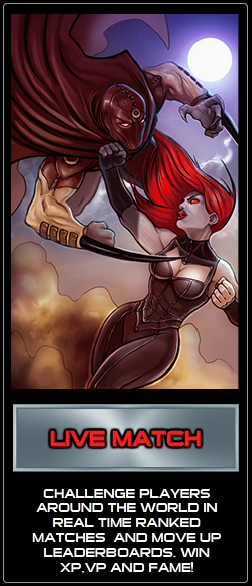 CLASH: Rise of Heroes is a
Collectible Card Game
developed by Qunify and published by
Making Fun
.
Using decks built with Ally, Power, and Item cards, players do battle in one of four modes: Campaign, Superbase, Live Match, or Superleague .
In Campaign mode, players complete Daily Missions, pitting their decks against the Artificial Intelligence (or PVE) to collect reward Cards with victories. Campaign mode also encompasses the World Map where players progress through both free and paid campaigns, gathering unique Item and Ally cards along the way. Players also accumulate valuable Victory and Experience points, used for leveling up and purchasing cards from the in-game store.
Clashers can raid their friends' bases in Superbase mode. Players match their deck against the decks of their friends, with those friends' decks being played by the game's Artificial Intelligence. With a win, a player nets Victory and Experience points and can send his friend a sympathy gift to compensate for the free pounding. If a player's Superbase deck successfully defends against the invader, that player nets Victory points.
In Live Match mode, players compete head-to-head against other players. Both winners and losers gain Victory and Experience points, though winners rightfully claim the lion's share.
Superleague was announced in April of 2012 as coming soon.
Game Play
Edit
Card TypesEdit
Ally Factions
Edit
Power Sets
Edit
Main Campaign
Edit
Premium Campaign
Edit
Part 1: Revenge of Dr. Leer
Part 2: Darlok Returns
Part 3: The Infernal Machine
Part 4: Lost in Time
External Links
Edit
Latest activity
Edit